Every organization strives towards making profit and attaining growth. For any company to be successful and remain in business, both profitability and growth are very crucial; it stands out as a necessity for a company to survive and remain attractive to investors and analysts (Maverick, 2021). Furthermore, there is a growing pressure to make the right decisions quickly that effects profitability and one factor pointing towards an increase is market share (Etale, Bingilar, & Ifurueze, 2016). Increasing the market share of any existing product or promoting a new product into an existing market is referred to as market penetration (IvyPanda, 2020). (Baker, 2020) defines market penetration as the amount of a product or service that is sold to customers compared to the estimated total market for that product or service. It's a measurement that can determine potential market size or help develop a strategy for increasing the market share of a specific product or service.
Companies all over the world work towards market penetration or positioning. They do this through creating new products of value or imbibing benefits into already existing product. They should be able to come up with strategies that help their business grow in order to compete in today's digital landscape (Hofman, 2020). These strategies should be tested, initiated and an analysis should be carried out to provide the company with the necessary information to effect positioning (Cross, n.d.).
Nigeria accounts for about half of West Africa's population with approximately 202 million people and one of the largest populations in the world (WorldBank, 2020). A country like Nigeria amongst other African countries, is well known for its growing market and high competition in all sectors of the economy. The competition is relatively high for both local and foreign brand as it cuts across both Nigerian / Nigerian-foreign companies. These competition cut across every niche of the market keeping companies searching for the best strategy for a more solidified and continuous market penetration. These strategies transforms a product from a mere product in the market to a brand. To strive to be a brand and maintain its status as a brand, keeps companies on their toes for the right campaign to use.
However, market penetration strategy is not drawn from a book and spoken into the company in a seminar. It involves hard work; defining the company's mission, vision, strength, weakness, opportunity, threats, image and key actions geared towards achieving organizational goals.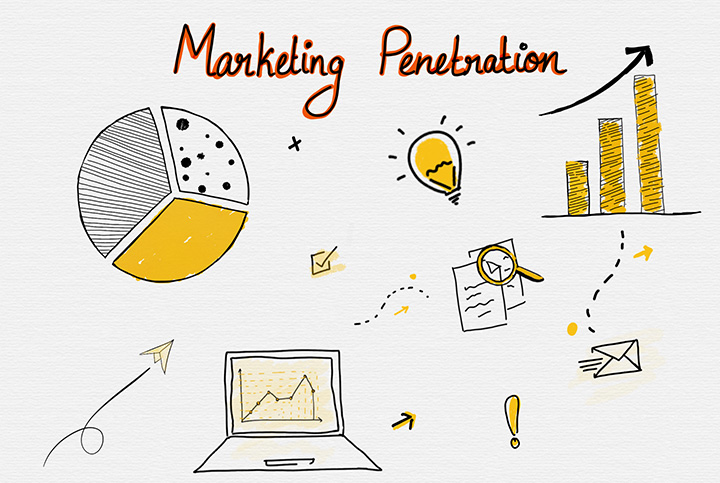 According to (Free Management Book , n.d.), there are four approaches to the market penetration strategies:
Maintain or increase the market share of current products: This approach helps to attain business success. It's effective in measuring the diverse revenue generating efforts from marketing campaigns, reaching product developments, mergers/acquisitions, expansions, innovation and branding initiatives (Wikipedia, n.d.).
Secure Dominance of growth rate: this approach tries to examine what new demographics can go for the brand and afterwards aggressively explore that group (Free Management Book , n.d.).
Restructure a mature market: in a flooded market with limited opportunity for expansion, it is expedient to device a new means of increasing sales. This requires a more aggressive promotional campaign with a need to adopt effective pricing strategy (K.Gupta, 2020).
Increasing usage by existing customers: customers are the sole of every business. Getting the previous customers to make purchase is key in improving a company revenue. However, getting new customers is very difficult and time consuming therefore it is important to improve on already existing customers (Hausman, 2020). Ways of increasing usage of existing customers includes: customers loyalty, quality production, added value and effective positioning.
Instances and analysis of market penetration strategies used by Nigerian/Nigerian-foreign brands in emerging sectors and industries.
Cowrywise: Cowrywise is a Nigerian personal finance platform which automates savings and investment from prospective customers (Ope, 2021). The organization observed over a period of time that they were having a minimum percentage of customers coming for referrals. In other to increase the rate the organization came up with an experiment to this effect. Firstly, they adopted the continuous promotional campaign often called the aggressive campaign by sending reminder emails to their customers and secondly, app UI adjustment were made to increase the level of prominence of the referral mechanism.
At the end, the organization got an increase of 1500 sign ups per month, which met up to half the slated goal. There was an 8% increase in the number of users that became referrers after a period of three months. (Analysis made by (Fund, n.d.).
The positive effect of this strategy was considered to be massive as stated above.
Kuda bank: Being Nigeria's first digital microfinance bank, approved by the Central Bank of Nigeria; It was founded by Babs Ogundeyi in 2017 and over the space of it coming into existence and now, the institution has recorded over $10 million in seed round (Intelligence, 2021). Following in the prints of its origin, Kuda has made use of strong visual contents to drive market penetration, and in May, 2021 The brand appointed Black Camaru (A popular online skits comedian) as brand influencer leveraging his "street credibility" vibe to drive campaigns aimed at promoting secure banking and protecting customers against fraud.
Analysis of models of market penetration
Common models used in market penetration includes:
SWOT analysis: the SWOT analysis is an acronym for evaluating the internal strength and weakness, alongside the external opportunity and threat of any brand (Sammut-Bonnici & Galea, 2015). Strength and weakness are things an organization can change and have control over while the threat and opportunity are things that go beyond the shore of the organization's environment (Parsons, 2021). This type of business marketing model allows for clear definition of the organization's objectives and steps to achieving it (Dame, 2020).
PESTEL model: while the SWOT analysis focuses on both the internal and the external factors, the PESTEL looks at only the external forces. PESTEL represents Political, Economic, Social, Technological, Environmental and Legal factor. These outside forces are out of the control of the organization, they can however influence the decision making of the organization (VComply, 2018).
Porter's five force: Created by Michael Porter in 1979, to test the level of competitiveness of an industry (Vliger, 2012). The five forces includes: threat of new entrants, threat of substitutes, bargaining power of buyers, bargaining power of suppliers and intensity of competition within the industry. These forces help to analyze the strength of an organization's current competition position (CGMA, 2013).
Brand Positioning Map: It is a graphical illustration of how the customers perceive a brand in comparison with their competition (Dawar & Bagga, 2015). In mapping out a brand, the product characteristics is very important. The map shows the brand's strengths and weakness and help identify diverse market opportunities, evaluate opportunity shift and also pinpoint areas where a brand has an advantage in relations to the competitors (Yadav, n.d.) .
USP (Unique Selling Proposition): the need to stand out from the competition takes companies to the drawing board to identify the unique characteristics that distinguishes them from the competition (Shewan, 2021). USP is crucial in inputting an organization strength and those attributes that makes a brand or product uniquely valuable to the target customers (Kumar, 2021).